Remodel the Shape of Your Existing Conservatory
If you are thinking about investing in a roof and frame combination upgrade to your existing conservatory, then why not consider remodelling the shape of your existing conservatory footprint altogether. This is an option we offer and can be accomplished in many ways, which for example can be additional brickwork to the existing walls or taking a portion of the original walls down to accommodate new wider frames like Bifold or French doors etc, right through to a complete redesign of the entire shape of the conservatory with a new roof and frame configuration.
Remodel
Your

Conservatory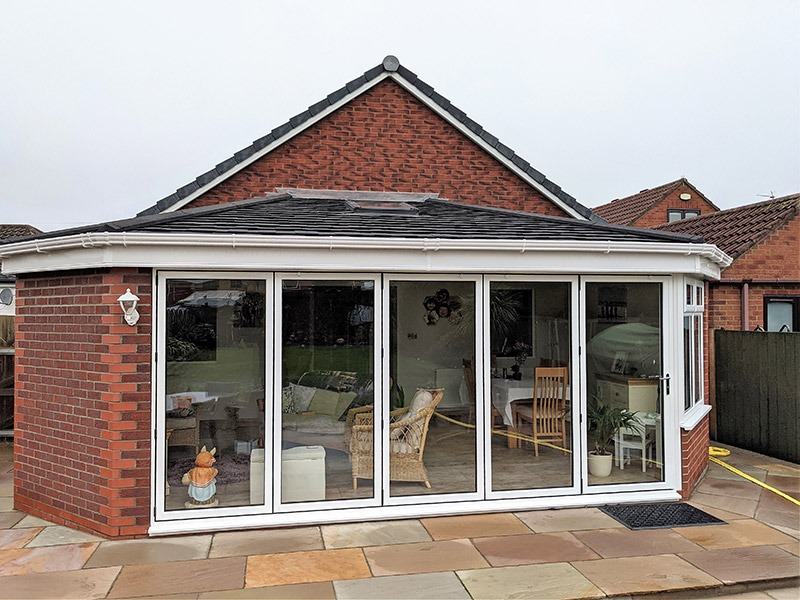 Customise Inside & Out to Make it Your Own
There is an unlimited array of remodelling options available to you if you feel like completely altering the overall style and we can advise you on this should it be of interest to you. We can also create you a virtual CAD drawing of any remodelling design that takes your fancy so as you can gauge just how these modern designs would totally transform your existing conservatory footprint. We have a wide range of product enhancements for you to consider so as you can tailor your Remodelled living space further still which include additional electrics, heating, plastering, joinery, glass roof plates, velux windows, decorating and patio redesigns.
Get a Quote
Request a Free Quote
At Glazerite Developments, we are happy to provide you with a free quotation. Click the button to get started.
Get a Quote
Fair & Honest Prices
At Glazerite Developments we believe in offering market-leading products at a fair price, giving you value for money when improving the appearance and performance of your home. We do not indulge in 'hard-selling' techniques or long drawn out sales presentations. We just offer fair and honest prices without any pressure.
10 Year Guarantee
All of our products come with up to a 10 year insurance backed guarantee and we have a dedicated after-sales team to back this up. Combine this with our excellent customer service and you'll see why over 70% of all our works gained are from customer referrals.
Quality Assured
We are a family company with over 30 years experience in the construction and window industry. Our aim is to provide a first class service to all our customers and we pride ourselves on our friendly, considerate approach. We offer the highest-quality service, from design and planning through to installation.
I couldn't fault Glazerite Developments. From the start, they were punctual, polite, and went the extra mile to help. The job was completed quickly, efficiently, and exactly as I required, also at a reasonable cost. The lads cleaned up completely afterwards, and I shall certainly use them for any future jobs, I wouldn't hesitate to recommend this company.
If you have any queries please don't hesitate to get in touch with us and we will be more than happy to help!
sales@glazeritedevelopments.co.uk
Glazerite Developments Ltd
2 Exeter Street,
Cottingham,
East Riding of Yorkshire,
HU16 4LU