Planitherm Glass Upgrades in Hull & East Yorkshire
Up-grade now your existing windows for the latest energy efficient planitherm glazing without the need to replace your frames.
Planitherm glass is a revolutionary new glass product that can can seriously save you money on your energy bills, it can easily be retro fitted to virtually all existing windows and door systems without the need for new frames.

How it Works
We've all seen the recent Planitherm adverts, so here is a little more information on this new glass technology, its proven to be the most energy-efficient window glass available in the UK today and it's an unknown fact that around 26% of heat in your house escapes though your windows, fitting Planitherm glazing can eliminate the vast percentage of this heat loss.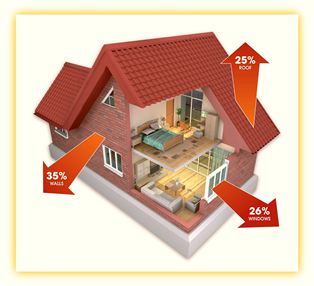 Planitherm is a new generation of energy efficient windows that can save you up to 28% a year on your heating bills in comparison to standard frames and windows.
Planitherm is the most energy efficient glass available, which is also known as low emissivity glass, or low-E glass. It works by reflecting radiated heat back into the room instead of allowing it to escape through your windows; this is due to its intuitive advanced coating technology, at the same time as stopping heat escaping it also allows heat and light from the sun to pass through the windows in to the house.
Planitherm allows you to have a lighter, brighter and warmer home to enjoy while at the same time it boasts on being 3 times more energy efficient than single glazed units and 25% more efficient than most current installed double glazing.